Camping
Camping is an integral part of scouting and we have several very experienced leaders in this area, we do try to go camping as much as we can, this can be under canvas or in a building and is a fantastic opportunity for members from the Beaver who is going away for a first night away to the Explorers that escape to the world Jamboree for weeks at a time we have a camping adventure for everyone and will do our best to include everyone we can. 
There are occasions where we do need additional adult support, all adults must undergo a DBS search before the event if any parents wants to get this in place please speak to you section leader
Emergency Communications
You will be given a main emergency in touch contact for each event (this is often a designated leaders mobile but for larger events may be a designated person away from site) In the event of an emergency please contact that number and we will work with you to deal with the emergency either by relaying messages or arranging a call back, equally leaders have their mobiles with them (as long as we have a signal) and if members want to call home we can facilitate that. most events we will be spamming the group's closed Facebook group with pictures and updates  but all ways remember the old saying no news is good news (it means we are all to busy having fun)
Kit (equipment)
We have added a list of equipment that will be needed on this page to help you prepare but as it says this is a basic list and not exhaustive, a good thing to remember is don't send anything that you do not want to walk to the bin at the end of camp on its own. it is important to note that our group asks that members leave their electronics at home (yes that does include the phone) with the exception of torches, 
Please be aware that as we camp in tents the weather can get cold at nights and the equipment that your child brings needs to be of a suitable standard for there safety and comfort (please think carefully about sleeping bags we recommend a minimum 3 season mummy bag and a good roll mat), if you need advice on equipment or any other issue please ask (occasionally the group may be able to facilitate a central purchase of equipment but to do this we will need plenty of notice).
The group will usually provide all the general use equipment such as tents cooking equipment and often the plates cutlery etc unless otherwise stated (scouts sometimes do things differently so please do take note of the specific event details) members should remember their t towels as well as there clothes wash kit and towel sleeping bag etc and don't forget teddy.
please note If there is any special equipment that your child requires please ensure we know and it is provided.
Records
At this point it is vital that we remind you OSM must be up to date and include any food allergies (please email the leader planning the event any strong likes/dislikes well in advance so these can be taken into account when planning the menu) but as well as food the medical and emergency contacts must be reviewed.
Equipment for loan
Cubs have a small amount of equipment that is available for use for a nominal fee (if this is the first camp then we would recommend using this instead of buying things and finding they don't like it) .
Sleeping bag and inner £2 per night
Sleeping Mat £1 per night (included with sleeping bag)
Waterproof trousers £1 per camp
Waterproof Coat £1 per camp
Please note that all equipment must be cleaned before returning it to stores, also any damages or losses must be replaced.
Medication
You will find a medication form on this page to consent to medications being given, this form is for all members and needs completing for each camp as this gives us the ability to give paracetamol or other common over the counter medications for which we need your signed consent. can we ask that you print this off and return it to the camp leader. for each camp.
All medications needs to be clearly labelled with the Childs name and date of birth if this is prescribed medication it needs the chemists label attached to the box (for asthma inhalers it is recommended that you give a spare to be held by the leaders clearly labelled with the Childs name and date of birth as these are easily lost).
Please note that All Medication needs to be handed to a leader who will hold this securely until it is required for the duration of the camp this includes over the counter holistic products.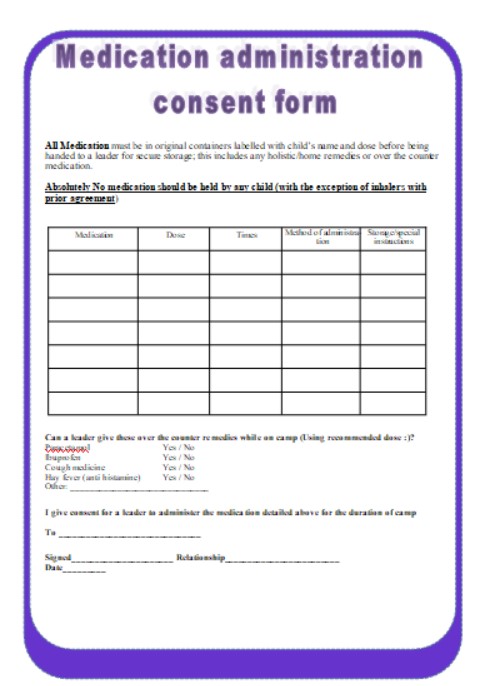 Meds Form
Insurance
we have been asked about this in the past and it is important to note that Scouting and our group do not provide any insurance for personal property or cancelation cover as standard, we would recommend that if you want to take out insurance you take a personal holiday insurance out (I have used compare the market for this purpose before and it costs a few pound for a weekend)  
Risk Assessments
All our events and activities are risk assessed to reduce the high risks but this does not mean that we can totally remove risks. a copy of the event risk assessment will be added to this page (in the near future) if you would like a copy before we post it please speak with your section leader.